Kanye West, is a name that evokes a wide range of emotions and opinions. From his groundbreaking music to his unfiltered public persona, Kanye West has established himself as one of the most influential figures in contemporary music.
The Early Years: A Producer's Ascent
Before Kanye West became a household name in the music industry, he made his mark as a sought-after producer. Collaborating with artists such as Jay-Z, Alicia Keys, and Janet Jackson, West showcased his exceptional production skills and knack for creating infectious beats. It was during this period that he crafted his signature sound, characterized by soulful samples, innovative production techniques, and a bold blending of genres.
The College Dropout: A Game-Changing Debut
In 2004, Kanye West released his highly anticipated debut album, "The College Dropout." This album not only propelled him to stardom but also redefined the boundaries of hip-hop music. With tracks like "Through the Wire," "Jesus Walks," and "All Falls Down," West introduced a refreshing honesty and vulnerability to the rap genre, addressing personal struggles, social issues, and his own ambitions. "The College Dropout" became a critical and commercial success, earning him multiple Grammy Awards and establishing his place as a musical icon.
Graduation and Genre Experimentation
Following the success of his debut, Kanye West continued to push artistic boundaries with his subsequent albums. "Late Registration" and "Graduation" showcased his evolution as a musician, blending hip-hop with elements of rock, electronic, and even orchestral music. The hit single "Stronger" from the album "Graduation" exemplified West's ability to fuse diverse sounds and create infectious anthems that resonated with audiences worldwide.
808s & Heartbreak: Emotional Depth and Autotune Revolution
In a departure from his previous work, Kanye West released "808s & Heartbreak" in 2008, a deeply personal and emotionally charged album. Drawing inspiration from heartbreak and personal loss, West used autotune as a tool to convey raw vulnerability and introspection. While initially polarizing, the album's impact on the music industry cannot be overstated. "808s & Heartbreak" paved the way for the rise of emo-rap and influenced a generation of artists who embraced vulnerability in their music.
My Beautiful Dark Twisted Fantasy: A Magnum Opus
Considered by many as Kanye West's magnum opus, "My Beautiful Dark Twisted Fantasy" is an opulent and grandiose exploration of fame, love, and personal demons. Released in 2010, the album brought together an eclectic range of collaborators and showcased West's ability to orchestrate intricate sonic landscapes. It received widespread critical acclaim and is often hailed as one of the greatest albums of the 21st century.
Boundless Innovation and Evolution
Throughout his career, Kanye West continued to evolve and challenge artistic norms. From the boundary-pushing, minimalist sound of "Yeezus" to the gospel-infused "Jesus Is King," his music constantly defies categorization. West's relentless pursuit of artistic reinvention has made him an unpredictable and exciting force in the industry.
Kanye West's musical journey has been nothing short of extraordinary. From his early days as a producer to his transformation into a global superstar, West has consistently pushed the boundaries of music, redefined genres, and left an indelible mark on popular culture. His fearless creativity, willingness to take risks,and unfiltered expression have solidified his status as a true musical icon. His singular synthesis of creativity, originality, and storytelling continues to inspire and have an impact on innumerable artists today, making sure that his legacy would endure for a long time.
The Kanye West Shop, the ultimate destination for all things related to Kanye West. Our website is dedicated to curating a diverse range of products that pay homage to Kanye West's unparalleled imagination and artistic vision. Step into the world of Yeezy and explore our collection, where you'll discover a variety of items that embody his fearless spirit, innovative approach, and undeniable influence on popular culture.
In addition to Kanye West, the modern music scene features the presence of various talented bands and renowned solo artists. Among them, Suicideboys, an American hip-hop duo, has garnered attention within the music community for their unique style, delivering deep lyrics and vibrant soundscapes. With an exclusive range of products available at the Suicideboys Merchandise Store, you can completely immerse yourself in the universe of the band.
Rod Wave, on the other hand, has emerged as a prominent figure in the world of rap and R&B. His soulful melodies and introspective lyrics have struck a chord with audiences, solidifying his position as a rising star. For those who appreciate a fusion of rock and metal. The Rod Wave Merchandise Store, where you can discover a selection of unique goods inspired by his emotional music and resonant words, is the perfect destination for Rod Wave fans.
Ice Nine Kills has made a name for themselves with their theatrical and horror-themed approach to music. Their energetic performances and captivating storytelling have captivated fans worldwide. Experience the macabre allure of Ice Nine Kills with our exclusive collection of merchandise at the Ice Nine Kills Merchandise Store.
Meanwhile, Knocked Loose has gained recognition in the hardcore punk scene, known for their aggressive sound and raw, emotive lyrics. Their music resonates with listeners seeking an intense and cathartic experience. Discover a trove of exclusive merchandise inspired by the intense energy of Knocked Loose at the Knocked Loose Merchandise Store, the ultimate destination for fans of the band.
Brockhampton, a self-proclaimed boy band, has redefined the boundaries of hip-hop with their diverse collective of artists, pushing creative boundaries and tackling topics of identity, mental health, and societal issues. Discover a world of artistic expression with the Brockhampton Merchandise Store, where fans can find a diverse range of exclusive merchandise inspired by the innovative music and unique style of the collective, Brockhampton.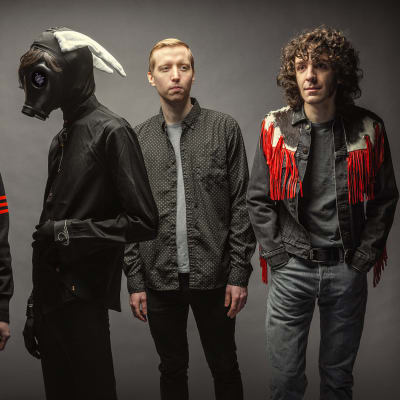 Car Seat Headrest, led by singer-songwriter Will Toledo, has earned critical acclaim for their indie rock sound and introspective songwriting. Their music often explores themes of self-reflection, love, and personal growth. Discover the world of Car Seat Headrest with our selection of unique products at the Car Seat Headrest Merchandise Store, where fans can purchase one-of-a-kind goods influenced by the band's brilliant indie rock sound and reflective narrative.
These artists and bands, among many others, contribute to the vibrant tapestry of the modern music landscape, showcasing diverse genres, styles, and narratives. Each brings their unique voice and perspective, enriching the English music scene with their talent and creativity.